"Allow Nnamdi Kanu To Return To Nigeria" – Orji Uzor Kalu Begs Nigerian Government
Senator Orji Uzor Kalu, a former Governor of Abia State and the current Chief Whip of the Senate, has pleaded with the Nigerian government to permit Mazi Nnamdi Kanu, the leader of the Indigenous People of Biafra (IPOB) to come back to Nigeria.
The Senator for Abia North said the discussions for the return of Kanu would include that Nnamdi Kanu will drop the intentions to create a new country, Biafra.
Orji Uzor Kalu made this request while addressing questions from the News Agency of Nigeria(NAN) on Tuesday morning.
He also raised worries about some journalists publishing stories about him that are not verified, he added that various broadcasting houses have continued to circulate gossips and quote his remarks incorrectly.
The Chief Whip of the Senate, who cited an example of when he said he would change Nigeria to a 21st century, if he had the opportunity to lead the country during an online interview, uttered that some bloggers wrongly quoted him to have said the 20th century.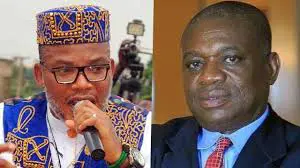 In response to questions on the recent dispute between IPOB members and security personnels in Enugu, Orji Uzor Kalu said he passionately believe in a united Nigeria.
He said that if the federal government allows him, he will go to the United Kingdom and arrange with Nnamdi Kanu to come back to Nigeria. He also said he will convince Nnamdi Kanu to drop the perturbation for Biafra because it is not needed by the people, adding that what is needed is a unified Nigeria that will permit diverse cultures and languages to live in any region of the country harmoniously.