Nigeria Would Have Collapsed If Buhari Had Not Been President – Lai Mohammed
Nigerian Information Minister Lai Mohammed has taken to social media following the announcement that if Muhammadu Buhari had not been president, Nigeria would have collapsed.
A statement from Lai Mohammed's office on Sunday said: "The presidency of Muhammadu Buhari in 2015 has prevented Nigeria from collapsing after a long period of misguided rule."
The minister said President Buhari took over the reins of the country at a time when "many territories have been invaded, at a time when many Nigerian cities and towns, including Abuja, have become a haven for terrorists and during the abduction. The country's economy. "
However, since the announcement, citizens, especially on Twitter, have been voicing their views, often criticizing the minister for defending the government despite what they called the failures of President Buhari's government.
Twitter user Daniel Tariwe said Lai Mohammed would always defend their government even though it failed because he was one of the losers.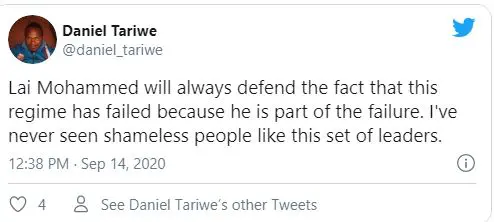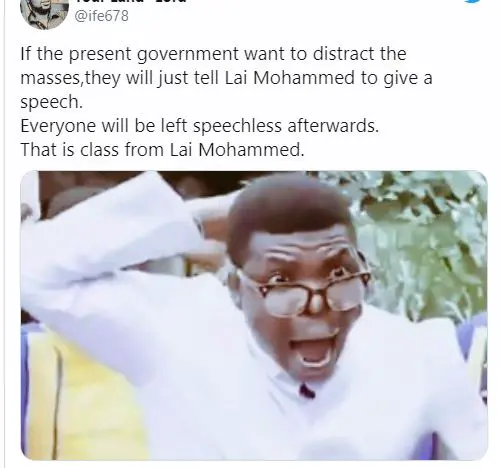 However, many agree with Lai Mohammed's statement that President Buhari has prevented the country from disintegrating.
"Some of us are now refugees in Niger, Chad and Cameroon," said Mustapha Musa.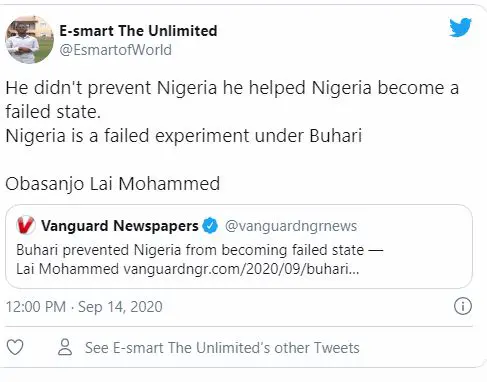 Rayhan also said: "It is true that he did not come to power and the masses started a civil war in Nigeria. Because they said he was the only one left who was honest.